Stay up to date!
Be the first to receive the latest Tabbara Electronics news, events and product updates. You can unsubscribe from this list at any time.
Welcome to our blog, where we will be sharing the latest news and information about the telecommunications industry. Our goal is to provide our readers with valuable insights into the latest product releases, trends, and technologies that are shaping the industry.


We will be covering a wide range of topics, including 5G networks, internet of things (IoT) applications, cybersecurity, and more. Whether you are a tech-savvy individual looking to stay up-to-date on the latest industry developments, or a business owner looking to learn more about how telecommunications technology can improve your operations, we hope you will find our content useful and informative.


We will be regularly updating our blog with new content, so be sure to bookmark this page and check back often for the latest updates. We welcome your feedback and suggestions for future blog post topics, so feel free to get in touch with us at helpdesk@tabbara-electronics.com. We look forward to sharing our insights with you!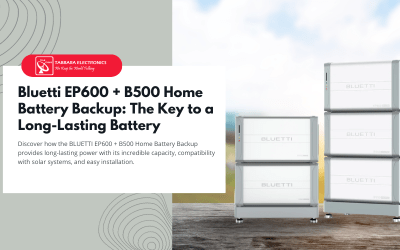 In a world where power is essential for our daily lives, having a long-lasting and reliable energy source is paramount. The BLUETTI EP600 + B500 Home Battery Backup stands out as the key to ensuring...
read more