When it comes to work, almost nothing works like a two-way radio. Digital two-way radios can give you instant, rugged, secure and high-performing communication that helps increase productivity, improve resolution time and protect workers.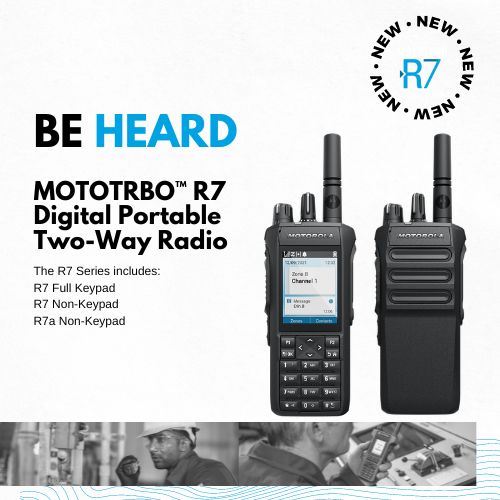 No matter how big, or how small the task, whether you're communicating across the country or just across town, digital two-way radios can close the communication gap.
Research confirms that consumer-grade cell phones can bring greater expense than ruggedized devices.
Little surprise, given cell phone's shortcomings:
• INCUR 50% HIGHER TOTAL COST OF OWNERSHIP THAN RUGGED DEVICES OVER A FIVE-YEAR PERIOD
• 3X MORE LIKELY TO FAIL, COSTING 180-260 MINUTES OF PRODUCTIVITY PER FAILURE
• UNAVAILABLE IN EMERGENCIES WHEN CELL TOWERS OVERLOAD
• UNABLE TO BLOCK LOUD NOISE
• GAPS IN COVERAGE AND SIGNAL
Where cell phones fall short:
1- Batteries not designed for continuous use
2- Prone to dead spots and poor reception
3- Ineffective in high noise environments
4- Public system that costs money every month to use
Digital radios keep you going:
1- Battery life to support intensive use for the length of a full day
2- Offers excellent reception and wide coverage.
3- High-volume audio with industrial noise cancellation
4- Private, closed system that saved money; no monthly fee for usage.
Interested in learning more about Motorola Solutions two-way radio? Contact Tabbara Electronics!